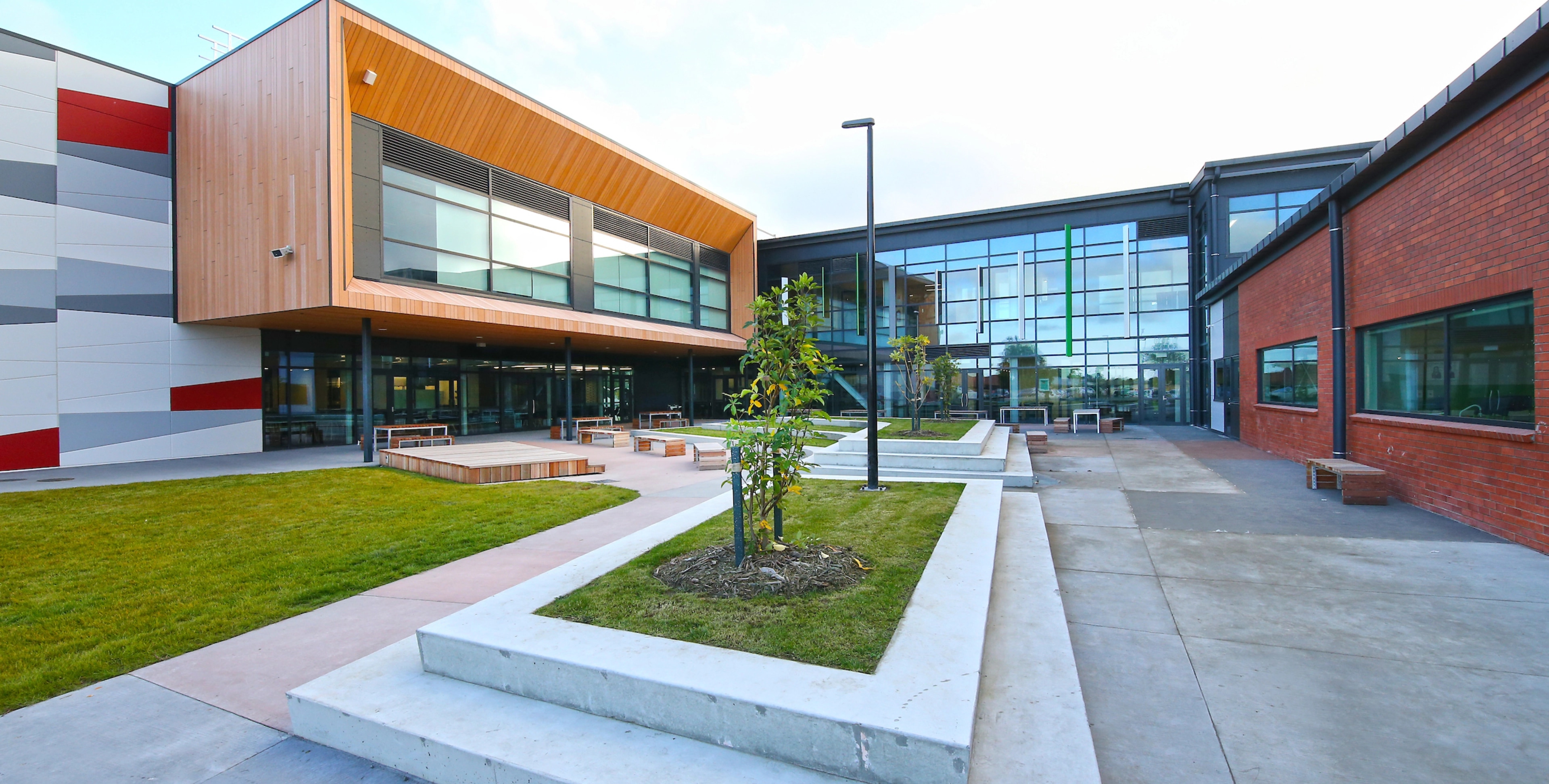 Ministry of Education
Shirley Boys / Avonside Girls High School
This project created a brand new 'super campus' for two popular Christchurch secondary schools.
Key information
| | |
| --- | --- |
| Client | Ministry of Education |
| Dates | July 2017 - March 2019 |
| Total value | $123 million |
| Area | 22,000m2 |
About this project
This state-of-the-art design relocated the two high schools – Shirley Boys and Avonside Girls – to QEII Park in Christchurch, where they now share an 11.5-hectare site.
Among the facilities on campus are a Performing Arts Centre with a 750-seat theatre and a second smaller 200-seat theatre; 4 x full-sized sports fields with a 400-metre running track; 3 x full-sized indoor gymnasiums, a cultural space, and a café and fully-equipped commercial teaching kitchen.
Some of the other impressive features that make up this build include 1.5km of facade and 8,200m3 of concrete with around 2000 ground improvement stone columns used.
Our approach
This project was of such a significant size – averaging over 250 contractors per day, peaking at a whopping 600! As such, we assigned specific Site Managers across all aspects, who were able to use their individual strengths to ensure total continuity between the design team and supply chain.
The construction of the school buildings involved all design disciplines. This provided an IL3 building structure with full mechanical ventilation systems (consisting of both passive and mechanically ducted), and stringent acoustic requirements ranging up to 60dba between teaching spaces. Also, due to the schools' location, a number of up-grades were required to the existing inground infrastructure including major civil and stormwater management systems.
From design to construction end-to-end the school took 20 months to complete; including 3 months of intensive commissioning and completion under the observation of the ICO. And we worked in close collaboration with the schools to deliver a final build that was defect free at practical completion.